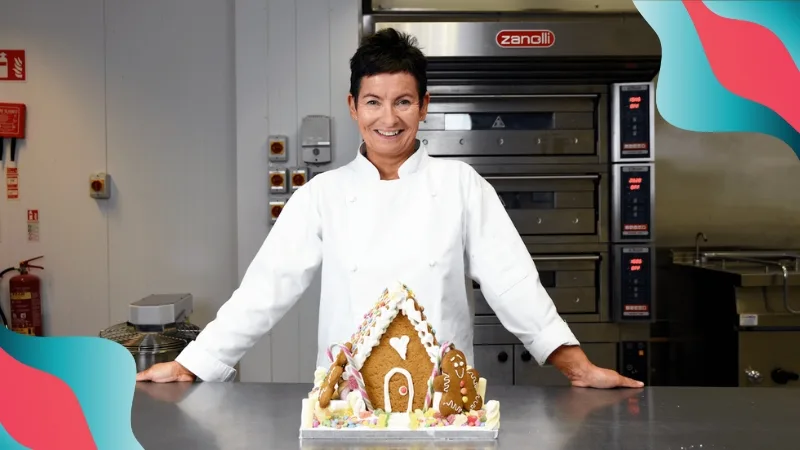 Discover how SkillsBase has helped a Cork baker enhance her teaching efficiency and maximise her audience's learning experience.
This Christmas, SkillsBase collaborated with Patricia O'Flaherty, a local Cork baker, to make her classes more engaging. Using SkillsBase, she created a module-based baking masterclass for her audience that she could deliver online. As part of the SkillsBase initiative, we provided her with access to the SkillsBase through which she curated a free module-based masterclass on making a Gingerbread house for her audience. 
Patricia O'Flaherty is one of Ireland's top confectioners, having won many gold medals over the years for her creations. With A Touch of Magic, she has established a cooking club for kids at the Cork County Council Incubator Kitchens in Carrigaline, where she has taught cooking classes for over a decade. However, she is also known as a teacher with her baking club for kids at A Touch of Magic in the late 90s when it became more than a hobby.
Seamless Communication with the Audience
Using this world-leading solution, she can create a unique and cutting-edge learning experience for her audience by uploading video content, creating quizzes, and creating e-learning courses that people can access anywhere. Patricia showed you step-by-step how to make a Gingerbread House in the course, followed by feedback quizzes. 
SkillsBase allows her to target her audience and create an engaging digital experience. The more the target audience interacts with her business, the more brand awareness she can make. 
Speaking to Patricia O'Flaherty, the founder of A Touch of magic, she said, "It was easy for my loyal customers to come on board, download the app, and sign up because they've been following my Facebook LIVEs, so I already knew that my recipes worked. Still, it is the intuitive platform that made my recipes more engaging. Through SkillsBase's step-by-step tutorials, students could work at their own pace without being overwhelmed by too much information."

Patricia O'Flaherty, the founder of A Touch of magic
SkillsBase a World of Possibilities for Content Creators
"The SkillsBase mobile apps have opened up a world of possibilities for small businesses like mine; however, developing a mobile app takes time and effort. It becomes much more manageable with a top-notch app development company like SkillsBase. Generating a robust mobile app will put wings to your sales and assure productivity and sustained customer engagement. Use mobile apps to kick-start your business if you haven't already! Exciting times are ahead for A Touch of Magic. 

"I loved how the app made me look; it was very free-flowing and natural, so it made me look at ease, even if I mumbled my way through some parts! A learning curve for me to slow down too when I speak. I loved the stage-by-stage; it was also great for those with learning difficulties as it was broken down into steps, so it was easy to go back and forth. I loved how the recipes and instructions looked. There was a lovely feel to the flow of teaching. I would love to start other short courses. I'm already developing more categories, quick and easy but very dramatic in their presentation and versatile for any occasion".

"My clients emailed me saying they loved how clean and professional the app looked; they downloaded it easily once they generated their password, but some had trouble with their passwords because they needed to read the requirements! There's always one!"

Patricia O'Flaherty, the founder of A Touch of magic
Engagement and Reporting
During the course release, Patricia did a Facebook live on her Facebook page, and within a few hours of her Facebook live, more than 110 people had downloaded the app from the app store. Users continue to use the app beyond the day they first downloaded it. In total, users spent 820 minutes on the Gingerbread training course, with an average engagement rate of over 55%. 
Through this innovative app, Patricia can engage her clients to train and engage remotely with their front-line teams while viewing rich analytics about usage data. Patricia can identify her audience's areas of interest from the analytics and reports, allowing her to design and plan new materials in the future accordingly. 
Feedback Loop
SkillsBase enables Patricia to create customised courses, keep track of her audience's interest, and get feedback via an analysis system within a secure environment. Across the board, SkillsBase provides a platform to content creators like Patricia that enables them to improve their digital presence and increase their confidence by allowing them to host their content securely on its platform.
Our Mobile-First Solutions Build Relationships, Break Down Barriers to Engagement and Create Value
Let's talk about your solution; contact us today!