What is SkillsBase?
SkillsBase is an innovative mobile first education and training platform that utilises the latest advancements in AI and AR technology to elevate your company's efficiency and productivity to the next level.
Our team at SkillsBase has designed a platform that specialises in effective installation, and we have successfully integrated our solutions into the telecoms industry. But SkillsBase has the potential to expand into a wide variety of sectors, including utility installations.
Augmented Reality (AR) and Artificial Intelligence (AI)
SkillsBase uses augmented reality (AR) and artificial intelligence (AI) to streamline routine operations and increase productivity while also reducing errors in installation and revisiting costs.
Using our Virtual Buddy tool, we use artificial intelligence to enhance visualisation and allow the engineer to see mistakes in real time, and solutions on how to fix them. We also use our AR Planning tool to allow engineers to overlay the product in position so they can investigate potential obstacles before beginning the process.
For example, when installing a boiler, it's important that the welding and fabrication is done correctly to ensure the integrity of the boiler. Using our Virtual Buddy technology, the engineer can upload a photo of the boiler and our technology will analyse the visual data and alert the engineer to any defects, improper material selection or any other physical issues that would otherwise require revisits to fix. As a result, customer satisfaction is improved, revisit costs are reduced and the engineer will continuously refresh their knowledge and training on site.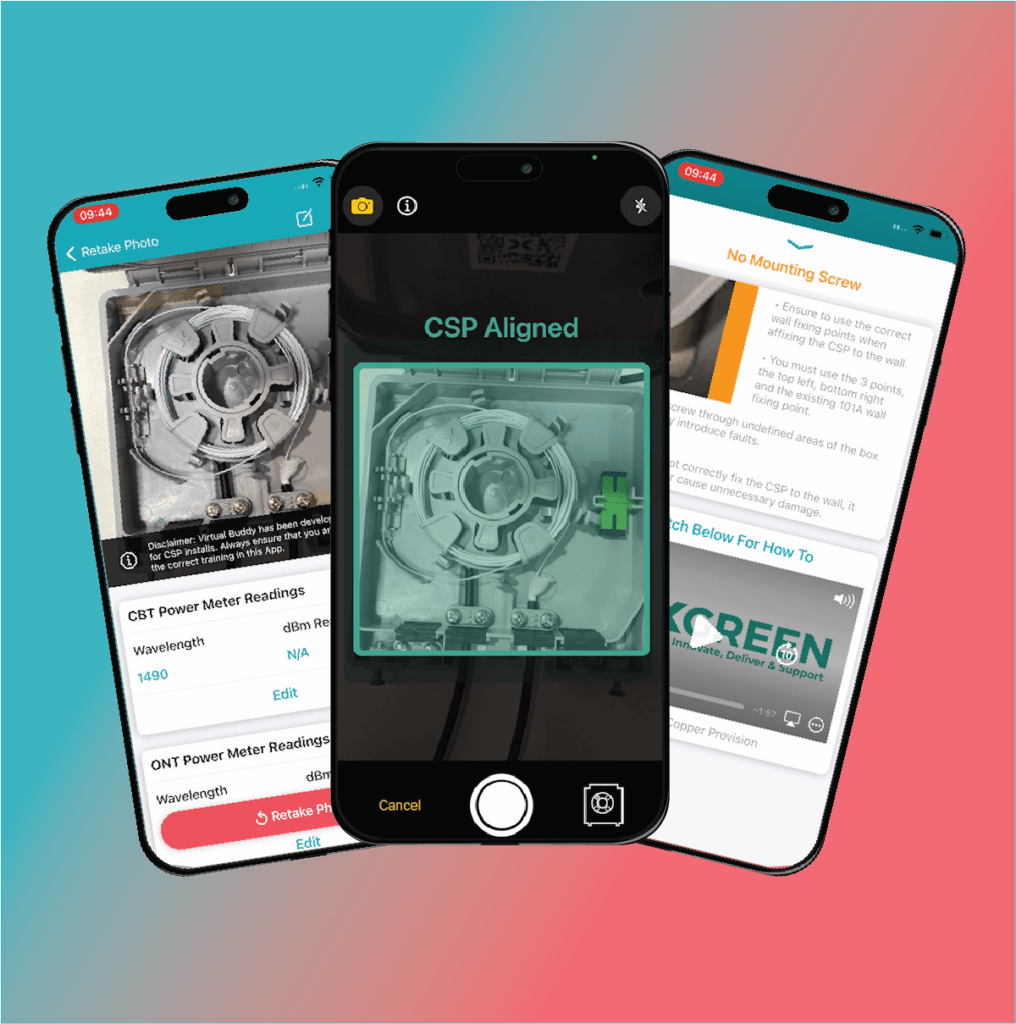 Monitor Employee Strengths and Weaknesses Using Data Collection
Using a mobile-based platform is beneficial because it means that the company can collect data to understand how to optimise installation and training. An example of how this is useful is if an electrician uses SkillsBase, and uploads photos of their work to the app, the company can notice common areas of error within the business, such as a pattern of insecure wiring, allowing them to see that this is an area that needs to be refreshed through retraining.
App-Based Training and Practical Assessments
SkillsBase allows companies to train remotely and onsite. SkillsBase uses a mobile-based module platform to make learning more measurable and convenient. We utilise a combination of step-by-step videos, interactive quizzes and surveys, on demand training content, auditing and coaching as well as insightful analytic tools.
An example of how this can be useful is when installing irrigation systems, training is essential to ensure that engineers know how to operate and maintain the system effectively. If training is inadequate, it can lead to inefficiencies and equipment damage.
Using the SkillsBase platform, engineers have access to the tools they need to learn anytime, anywhere. If an engineer is unsure of how to secure a pressure regulator using pipe clamps, they can look at one of the tutorial videos that will walk them through each step thoroughly and clearly.
Companies can also simplify the process of practical assessments by digitizing it. Practical assessments are checklists that allow an evaluator to assess a group's adherence to guidelines and protocols. SkillsBase has created a feature to make this process faster and more convenient. Group members can be evaluated individually or as a group, and when a new member joins, you can scan the QR code from their phone, and they will be automatically added to the evaluation list.
Bespoke AI Solutions
Here at SkillsBase, we understand that no solution is a one size fits all. Using bespoke solutions, we are committed to adapting to the needs of our clients, and making sure that our platform is exactly what you need it to be. We build the platform around you, and we create solutions for the specific needs of your industry and your business. The process of building your platform is collaborative and customised, and we will work with you to create exactly what you need. From mobile-app solutions to content creation and marketing, SkillsBase is dedicated to providing you with whatever will work for you.
Whatever you need, whatever industry you hail from, SkillsBase has the tools to support you.
Contact us at mailto:info@skillsbase.io or reach out to our CEO Mark Horgan for more information!